From the June 2006 Idaho Observer:
---
9/11: Revealing the Truth; Reclaiming Our Future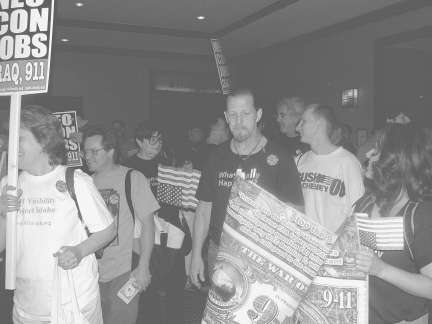 Preparing to rally from left to right: Ingri Cassel, Don Harkins, Janette McKinlay, Rich Jocius, Ben Colett, Mike and Tonya Miller Bailey. ~Photo lonelantern.org
Shortly after Ingri and I arrived at the Embassy Suites Hotel—the site of the first international 9/11 truth conference, at least 100 of us picked up signs and, with the help of a police escort, boarded the "El" for the long trip into downtown Chicago for a rally.
We were an impressive site on that beautiful afternoon. Police directed traffic as we made our way toward Daley Plaza. Once at Daley Plaza, we spread out and virtually occupied the area. We were all either carrying signs or handing out Deception Dollars to anyone who would engage. About 70 percent of the passersby had their "see-no-evil" blinders on and pretended not to see us. The other 30 percent were interested and willing to talk with us. It seemed that equal proportions of those who were curious about the purpose of our rally had no idea that the official 9/11 story was in dispute, had felt all along that the official story was nonsense but had not acted upon their concerns or knew that 9/11 was an inside job. None of the people we met on the street had any idea that a growing 9/11 truth movement was committed to exposing the real terrorists.
After a time, we continued onto another plaza shared by WGN, ABC and NBC. Our contact with the public produced similar and, again, largely favorable results. We took that as a sign indicating our country is ready for 9/11 truth.
The conference itself was well-attended and served as a tremendous information exchange and networking tool.
It is our sincere hope that the Chicago event serves as the springboard for 9/11 truth events all over the country. ~DWH