From the September 2008 Idaho Observer:
---
NASDA: Secretly blurring the lines between public and private while erasing international borders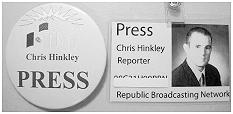 Pictured is the press button RBN host Chris Hinkley was provided by NASDA at registration and his RBN press pass. It turns out that one must agree with NASDA objectives and have press credentials to report on the globalist activities of NASDA.
By Chris Hinkley
On August 13-16, 2008, the Coeur d' Alene Resort hosted the 18th annual 2008 Tri-National Agricultural Accord conducted by the National Association of State Departments of Agriculture (NASDA). The event drew numerous U.S. officials including Idaho Governor Butch Otter and "dignitaries" from Canada and Mexico. As a local member of the press I decided to cover the event.
The conference was held under cover of an ominous, near media blackout. Though Idaho Gov. Butch Otter spoke at the conference on Thursday, none of the local mainstream press outlets carried the story. In fact, aside from this article, the only media coverage of this Idaho event to date was published in the Capital Press of Salem, OR, the North Texas e-News; gratuitous notices from the Idaho Dept. of Agriculture and the province of Saskatchewan, Canada were also issued.
Conference events open to the public and press included a "Report on Climate Change Meeting" and "Rural Development and Harmonization Tri-Lateral Group Reports" on Thursday, August 14. "Closing Ceremonies" and "Remarks" on Saturday, August 16, were also open to the press. Golfing at the Coeur d'Alene Resort and optional Tri-lateral Working Groups on Wednesday, August 13 and Friday's Bi-Lateral Meetings were closed to the public and press.
I arrived at the resort on Wednesday to register. I had recently moved and did not have my press credentials as a host with the Republic Broadcasting Network (RBN) handy so, while registering, I specifically asked if I needed to bring additional credentials other than the conference issued press badge I received. I was assured by registration staff the badge I was provided would be sufficient.
Thursday's events began with the Report on Climate Change Meeting and I was anxious to attend. Upon arriving I was immediately descended upon by several conference sentinels including; NASDA Consultant Jennifer Yezak, NASDA Director of Legislative & Regulatory Affairs Amy Mann, ID State Dept. of Agriculture Market Development Division Manager Laura Johnson, ID State Dept. of Agriculture Chief of Staff/Communications Director Pamm Juker, to name just a few. After repeated batteries of pressing questions as to my interest in the conference, what information specifically I intended to cover and why the conference and its subject matter was of interest, including demands for additional press credentials, I was finally left to my seat. This interrogation process lasted about 20 minutes, with groups of two conferring in whispers and then buzzing over to me for further questioning, then reporting back only to repeat this process.
As I finally settled in and adjusted my conference provided multi-lingual headset I was once again swiftly descended upon and asked to have a word outside the conference room. As I was grilled with the same battery of rhetorical questions including demands for additional credentials which I repeatedly obliged with contact information for the Network, I finally responded in exasperation, "Did I do something wrong? I was under the impression this event was open to the press. Is that accurate?"
The response to which was, "Yes, some of it is."
I was then instructed either to provide further credentials or leave the conference. I obliged to leave and returned to my seat to gather my things only to turn and see a hulking security guard standing in the door. I wonder what they were expecting.
All in all, I was at the conference for 45 minutes—just enough time to hear remarks on "carbon sequestration," "the spread of invasive species," and questions such as, "is there another venue where agriculture is addressed? If not, we have a problem" and "…whether we use the 'accord system' of dialogue or the means we've discussed among ourselves...Or maybe we use the accord membership as a dialogue process."
Based on these remarks alone in conjunction with the complete media blackout of the event, it is easily discernible to even an untrained eye it would appear that elected officials and private parties from the U.S., Canada and Mexico are plotting to undermine their nations' national sovereignty. Could our state departments be planning, in relative secrecy, to further extend and solidify the NAFTA/CAFTA/GATT/WTO/NAU/SPP/Agenda 21/FAO/ WHO/ Codex Alimentarius Orwellian dystopia?
Brief history. NASDA was founded in 1915. According to the NASDA website, the current arrangement is rooted in a U.S./Canada exchange dating from 1984. When efforts to expand the U.S./Canada Free Trade Agreement (FTA) to create a North American Free Trade Agreement (NAFTA) got underway in the early 1990s, it was decided to invite Mexico to participate in the Accord arrangement. The first trilateral accord meeting took place in Puerto Vallarta in 1992. Since that year, an annual accord meeting has rotated among the three countries. The United States hosted the 2002 Accord in Nogales, Arizona. The theme of this conference was the management of border issues.
Its stated mission is to represent the state departments of agriculture in the development, implementation and communication of sound public policy and programs which support and promote the American agricultural industry, while protecting consumers and the environment.
NASDA is governed by a 10-member board of directors consisting of a five member executive committee, one at-large member and the presidents of the four NASDA regions. Executive committee members are the officers of the association and serve five-year terms (Each region has at least one member serving on the executive committee). The regional presidents serve a one year term. The At-Large member is selected by the Executive Committee.
To learn more about the NASDA, and the Tri-National Agricultural Accord including meeting minutes, attendees lists, and much more, visit; the 2008 Tri-National Accord page, the "Accord history" page, and the NASDA homepage.
Chris Hinkley hosts "Road Warrior Radio," shortwave talk radio program from 9 p.m. to 10 p.m. Pacific on the Republic Broadcasting Network (www.republicbroadcasting.org)
To learn more about the NASDA, and the Tri-National Agricultural Accord, including its meeeting minutes and attendees lists, visit the website at www.nasda.org