From the April 2010 Idaho Observer:
---
Former Senator and CPS whistleblower clearly victim of foul play
 Nancy Schaefer was blowin' whistles. A former Georgia senator and outspoken family rights activist, Schaefer was engaged in action against the criminal cabal running Child Protective Services. She was in the final stages of making a documentary exposing the sheer insanity of a for-profit child adoption and foster family system that "named names" when On March 25, 2010 she and her husband were found dead in their Georgia home. Immediately the press reported it as a murder-suicide without so much as a shred of evidence and rumors began surfacing that her husband Bruce was emotionally unstable and under immense stress resulting from some undisclosed illness. It is now being reported that a looming $629,000 foreclosure was the catalyzing force that drove a spiritually centered Christian patriot to murder his wife and take his own life.
Nancy was the President of the Georgia Eagle Forum (). She founded the website as a "call to action" for Christian patriots to "stand firm and initiate reform regardless of the cost" and to "provide the avenue for conservative, pro-life and pro-family citizens/volunteers to actively become involved in the process of self-government and public policy." The site was "dedicated to our Founding Fathers and to those true Christians/Patriots who are committing their unwavering service to stand in the gap against the forces of evil that are bent toward turning our once Christian nation from the true and living God of liberty and freedom to the god of a humanistic worldview; that of socialism, materialism, and bondage."
In an article posted on Infowars.com Garland Favorito writes "Like so many people, I have known former Sen. Nancy Schaefer for 15 years and spoken to several people who know her better than I do. They believe that the 'murder-sucide' theory is highly unlikely for any one of the following reasons:
It is totally against Nancy Schaefer's consistently strong commitment to the sanctity of life principles that she has fought so valiantly to uphold;
Nancy and her husband, Bruce, have five children and more than a dozen grandchildren who they would not choose to leave behind so abruptly;
Bruce's problem with cancer was corrected and under control so there was no reason to end his life as one senator tried to imply;
Nancy or Bruce would not likely agree to commit such an act that violates the fundamental principles of their Christian faith;
Bruce was retired and the couple did not appear to be in any type of dire financial crisis that would lead them to commit such acts;
Bruce and Nancy knew that her sister who had Alzheimer's disease needed her to help take care of her;
Friends who knew the couple best state that Bruce would simply not have the capability to kill his wife;
Nancy was dedicated, as a national leader, to help needy people overcome abuse within Child Protective Services organizations;
Nancy was actively exposing corruption within the Department of Family & Child Services (DFCS) including actions by the DFCS director in the county where she lived.
Nancy knew that she was needed in the fight against child sex slave trafficking in Atlanta which has one of the highest activity rates in the country;
Bruce was highly supportive of Nancy's work for decades and would have little or no reason to suddenly try to kill her at such a critical juncture in her career."
Nancy's legacy is one of dedication to children and families who were victimized by the very government agencies that were supposed to be helping them. Her startling report as a Georgia state senator can be found at FightCPS.com.
Watch closely as the main stream media sweeps this story under the rug and labels anyone not inline with investigators as "right wing conspiracy nuts."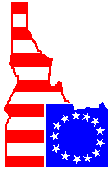 Home - Current Edition
Advertising Rate Sheet
About the Idaho Observer
Some recent articles
Some older articles
Why we're here
Subscribe
Our Writers
Corrections and Clarifications
Hari Heath
Vaccination Liberation - vaclib.org
---
The Idaho Observer
P.O. Box 457
Spirit Lake, Idaho 83869
Phone: 208-255-2307
Email: vaclib@startmail.com
Web:
http://idaho-observer.com
http://proliberty.com/observer/